HOW
BOOMBOX SOCIAL

SAVES SOLTI BOUTIQUE WITH ITS GUIDANCE TOWARDS A BRAND REBIRTH
Industry:
Fashion and Lifestyle
CLIENT OVERVIEW
A STORY OF INNER TRANSFORMATON
The Solti you'll find headquartered in Cebu is fresh. Anew.
But the truth is: this renaissance may have never seen the light.
That's because its founder, Kym had changed on a profound level. This existential transformation had led her to feel so disconnected that the brand's very existence was at stake.
Before, it was an active wear brand for young adventurous women, which reflected who Kym was when she first started it. Now, it's a clothing line that also sells self-care kits for mature women with a love for nature and holistic wellbeing.

"I didn't feel like SOLTI was me anymore. I was really close to completely just selling the company or shutting it down," Kym explains "I was trying to find ways to make it transform with me. But it felt like it was going to be too hard."
THE CHALLENGE
TO PURSE OR NOT TO PURSUE
Kym used to do everything: the creations, the photos, and so on. All that was fun and exciting, but it was also overwhelming. And she soon realized she had no time for her one true passion: creation. The businesses' demand for upkeep caused chaos and confusion, which reflected in the revenue and her levels of stress. .
"I feel like my products weren't good enough and that my designs weren't from the heart. It made everything feel messy." she recalls with a sigh "I was trying to do everything; marketing, designing, accounting, etc. But there was no growth, no steady flowNothing was aligned. I wondered why no one was buying. I didn't want to keep working like that."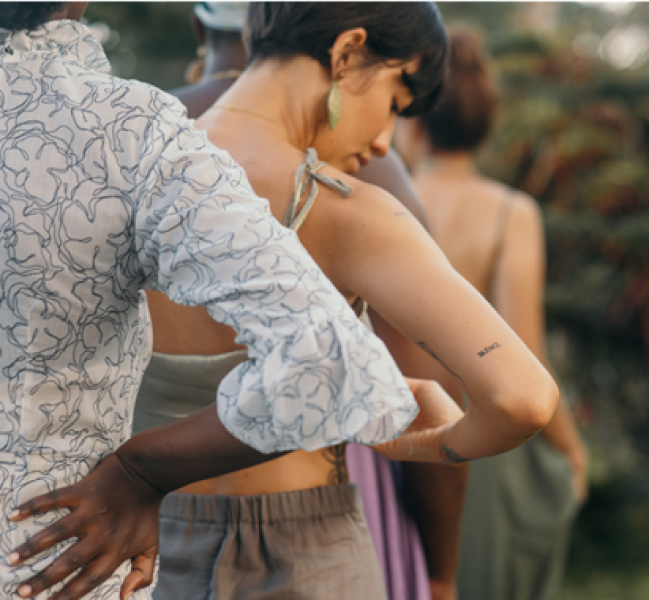 The realization of the detachment wasn't enough to motivate the changeover. She needed support and inspiration. That's exactly what Jao, founder of Boombox, was for Kym.
"I reached out and expressed that I felt disconnected and I didn't know what to do…And then Jao appeared, my knight and shinning armor." Kym smiles.
THE RESULT
SYNERGY AND GOOD VIBRATIONS FOR MAXIMAL PASSION
"I gained followers so quickly and I barely touched my Instagram! The team at Boombox really know the business, and they took time to understand mine. They used my creations to reach and connect to my customers. They're the bridge. And they've been doing it so well. The bridge is clear and everything is flowing easily. I am grateful."
In just half a year, Kym's ROI on Boombox is 484.79% But if you zoom out of the numbers, you can see the true wins are unmeasurable. Kym now runs a brand that is aligned with herself. Fans can now benefit from the visceral feeling of connection with oneself and nature SOLTI aims to create. On top of that, taking care of Kym's marketing allows her peace, freedom, and time to focus on her sole gusto, creation. .
"When Jao said "Just do you, create, and we will take care of the rest," I saw it as a gift. Life just got so. much. easier. They lifted the weight off my shoulders, and now I find that everything is so much more organized! It's been so fun working alongside them. Focusing on designing and creating has helped me to feel more aligned with myself and with my business. That makes me want to do my best, and most importantly, everything now comes from the heart."
Your success is our success. How can we best add value to your business?
"Boombox Social being the best partner"
"How I can focus on my core business"
"Boombox Social's Quality of Content Creation"